Visit NSU's Oceanographic Campus 
At this time, we are assessing CDC recommendations for our on-campus visits. Please continue to monitor this page for any updates to our in-person experience. NSU places the highest priority on the health and safety of its students, faculty, staff, and campus visitors.
Due to the COVID-19 pandemic, all campus visits for the month of September & October have suspended.  
*All Virtual Lectures and Virtual Events are still going forward as scheduled and can be accessed & registered for remotely.   
The Halmos College of Arts & Sciences also offers a daily tour of the NSU Guy Harvey Oceanographic Center. Prospective graduate students are welcome to connect here to visit this amazing facility. 
(Prospective Students must request your tour at least 24 hours in advance)
The Oceanographic Campus (OC) at NSU is only 12 miles from the Main Campus and is nestled at the end of Von D. Mizell and Eula Johnson State Park directly on the entrance channel of Port Everglades and within 100 yards of the open Atlantic Ocean. This 10-acre campus houses the Guy Harvey Oceanographic Research Center, the home of cutting-edge research in the marine and environmental sciences.
NSU encourages all undergraduate students to also schedule a Main Campus Info Session & Campus Tour to connect with their Admissions Counselor and learn more about Undergraduate Scholarships and their Academic programs.
Please allow at least 30 minutes of drive time to get from the Fort Lauderdale/Davie Main Campus to the Oceanographic Center located in Dania Beach, FL.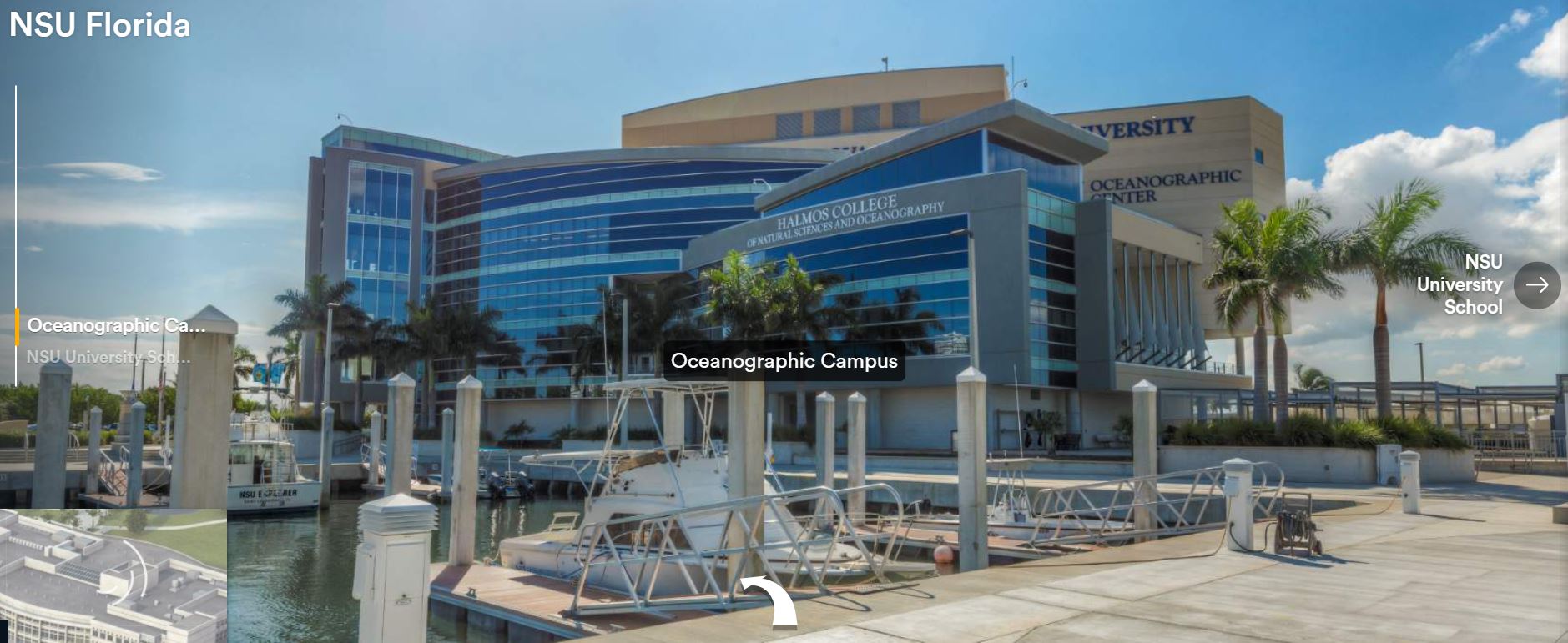 About the Guy Harvey Oceanographic Center
Since Guy Harvey, Ph.D. has supported and continues to support NSU in scholarship, research, and the conservation of marine life, Nova Southeastern University (NSU) has named its newest research facility the Guy Harvey Oceanographic Center.
"Nova Southeastern University has had a long-standing relationship with Dr. Harvey, and we're thrilled that will continue for many more years to come," said Hanbury. "His generosity is ensuring today's leaders in marine sciences teach and pass on their expertise to tomorrow's researchers. I am very pleased that Guy Harvey is putting his name - literally - on the growing legacy of our Oceanographic Center."
For many years, NSU has enjoyed an excellent working relationship with Harvey through the Guy Harvey Research Institute (GHRI), where researchers and students work together as they study and learn about all aspects of our marine ecosystem.
While most people recognize Harvey as a marine wildlife artist, not many are aware that he earned a Ph.D. in fisheries biology. This love of the marine world, his desire to learn more about our ocean-bound neighbors, and his mission to provide direction and assistance in the protection and conservation of these creatures that led to the formation of the GHRI in 1999.
"I am honored to have my name on such a high profile building in South Florida that is doing cutting-edge marine science research," said Harvey. "It is the latest and most significant step in an incredible partnership with NSU that began 16 years ago. And it is my hope that the work that will be done in the future in this building will make a significant difference in the lives of many individuals and the conservation of our oceans' resources." 
Along with Harvey's signature on the side of the facility, his name will also adorn the roof of the building. Given NSU's Oceanographic Center is in the flight path for aircraft coming to and from Fort Lauderdale/Hollywood International Airport, the potential is for millions of people to recognize his name as well as the City of Hollywood, Florida and NSU.
Group Tours at the Oceanographic Campus
Thank you for your interest in bringing your students to Nova Southeastern University!
Group Visits can be requested for 15-30 people. We pride ourselves on our small and engaging campus tours, and intimate campus visit experience – to that end, we will not be able to accommodate any groups that exceed the 30 guest limit.
We try to accommodate large groups, but please be aware that our ability to accommodate requests is dependent on the availability of our Graduate Admissions team. We ask for at least (10) business days advance notice prior to your campus visit.
Please email the following information to our Group Visit Coordinator listed below:
Primary Contact for Group Tour
Name (First and Last):
Email:
Phone Number (Day of Event):
Mailing address:
Group Name:
Brief description of the group:
The total number of students and chaperones:
What is the age range of your group?
If you have any questions please contact the HCAS Graduate Admissions Campus Visit Coordinator, Alcee "Jody" Hastings at hastings@nova.edu or 954-262-3663.
Nova Southeastern was founded in Fort Lauderdale, Florida during a time of historic social and cultural change. Looking back, 1964 was the perfect time for a small university with a handful of students and some revolutionary ideas to take shape.
Situated just 10 minutes from Fort Lauderdale/Hollywood International Airport, and close to I-95, I-75, and Florida's Turnpike, it's not hard to get to NSU's 314-acre Fort Lauderdale/Davie Campus. We offer a variety of opportunities throughout the year for you to visit the NSU college campus.
Check out our NSU Interactive Campus Maps to find more detailed information on our campuses.