Some of the World's Most Compelling Shark Research Happens Here at NSU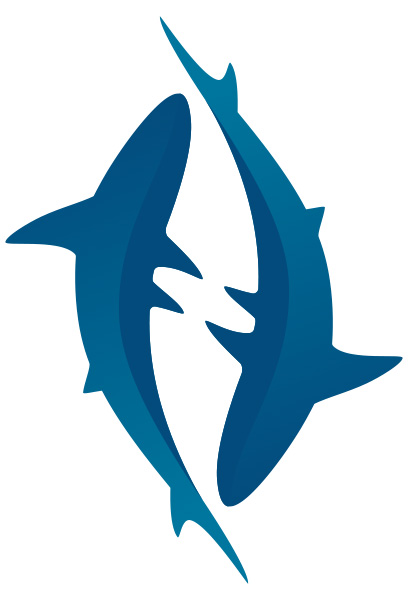 The researchers and marine biology students at Nova Southeastern University's Halmos College of Arts and Sciences and the NSU Guy Harvey Research Institute are advancing the field of biological oceanography by contributing to our body of knowledge about the ocean's most iconic apex predator – the shark.
Currently, NSU researchers and partners use shark tagging to track the migration patterns of 10 different species of shark, including the smooth hammerhead, which was just added to the project this year. A graduate student is using her passion for sharks to encourage more young females of color to enter the field of marine biology through her organization Minorities in Shark Sciences. And a coalition of scientists and lawmakers were able to pass legislation banning the importation of shark fins into the state of Florida.
These prominent accomplishments are only the crest of the wave of research and advocacy happening now. Read on to learn more about what you can get involved in.
Featured Shark Research
NSU's Long-Running Shark Tracking Initiative Now Includes Smooth Hammerheads
One of the most iconic species of sharks is now part of the active shark migration tracking program at NSU. For years, this project has worked with research partners to plot the migration patterns for different species throughout the world's oceans. Tracking this particularly elusive hammerhead species is shedding new light on the movements and residency of smooth hammerheads throughout the western Atlantic Ocean. The findings are being used by researchers at the NSU Guy Harvey Research Institute and the Save Our Seas Foundation Shark Research Center to inform conservation efforts for this depleted species. Read the full study in Frontiers in Marine Science.
Read the Hammerhead Tracking Study Check Out Our Shark Tracker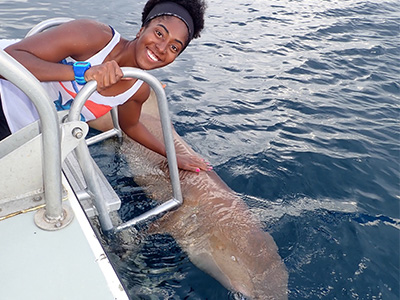 A Young Shark Scientist Is Changing the Face of Marine Biology
Carlee Jackson is a marine science Ph.D. candidate at NSU's Halmos College of Arts and Sciences. She's also the co-founder of Minorities in Shark Science (MISS), an organization on a mission to attract more young women of color to careers in marine biology. Through speaking engagements and workshops and planned field experience trips, Jackson is bringing the exciting work of marine biology to young students who may never have otherwise considered careers in the field. Follow the work of Carlee and MISS to support this effort.
Using Microbiome Analysis to Understand Communities within Shark Species
Mahmood Shivji, Ph.D., and researchers from three other universities and foundations are exploring a new method of using genetic analysis of microbial communities in shark species to chart the distinct communities within each population. By sequencing and comparing the genomes of microbes collected from sharks' teeth that are distinct from the surrounding waters, the researchers are able to build a more complete understanding of the total holobiont of distinct species. The full study appears in the journal, Frontiers in Marine Science.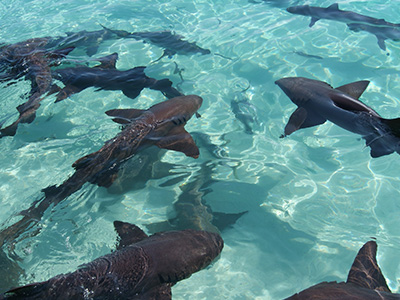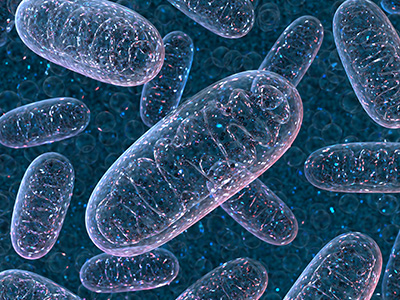 Researchers Chart the Complete Mitochondrial Genome of an Atlantic Shortfin Mako Shark
As the official NSU mascot, the shortfin mako has a special place in our hearts. And thanks to the work of Mahmood Shivji, Ph.D., and his research partners, the shortfin mako also has a place in future genomic studies. As a point of comparison to previous work done to sequence a Pacific-native shortfin mako specimen, this new work will help future population-level studies of this endangered species.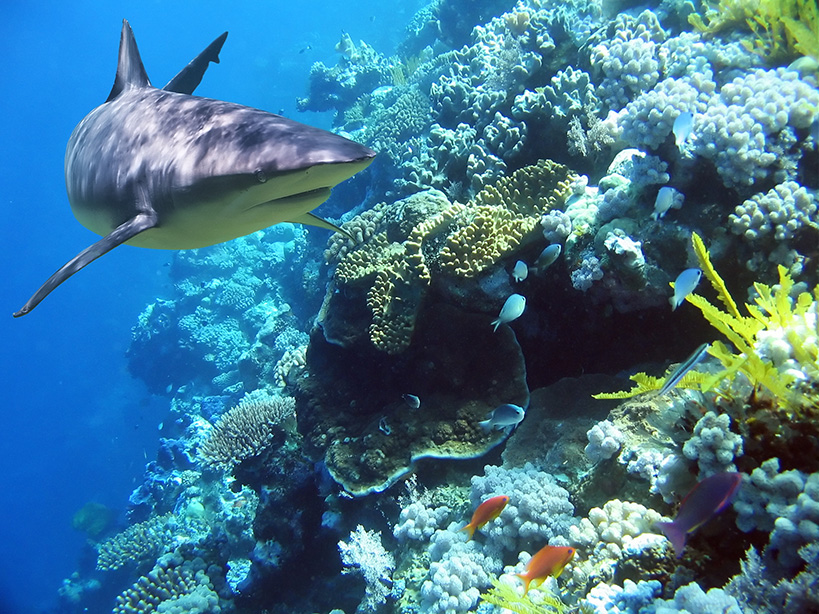 Our Work with Shark Research
NSU is home to the NSU Guy Harvey Research Institute and the Save Our Seas Foundation Shark Research Center. A major part of the work of both institutions is understanding and addressing major threats to shark and ray (elasmobranch) populations throughout the world.
Understanding and protecting these threatened species is an enormous – and enormously important – task. As apex predators, sharks and rays serve an essential function in a variety of marine ecosystems throughout the world. Not only that, the equally complicated microbiological and chemical oceanographic environment depends upon these host species for proper functioning and health.
The work of the Shark Research Center and the NSU Guy Harvey Research Institute is used to inform governments, NGOs and other research organizations on science-based conservation efforts worldwide.
Getting Involved in Shark Research at NSU
NSU is an interdisciplinary institution, and the study of sharks here spans multiple departments. Whether you hope to pursue biology, marine biology, genomics, chemistry or physics, you can specialize and contribute to the incredibly varied research activities of the university.
Our arts and humanities programs also overlap with this important research avenue. Visit the NSU Guy Harvey Research Institute to learn more about our commitment to science based conservation of marine fish populations and biodiversity. A collaborative Master of Science program focused on conflict and sustainable development is also in development through a partnership with the departments of Humanities and Politics and the Department of Conflict Resolution Studies.
The bottom line is that a passion for shark research can benefit you anywhere within the NSU Halmos College of Arts and Sciences. If you're ready to dive in, start your application or request more information today.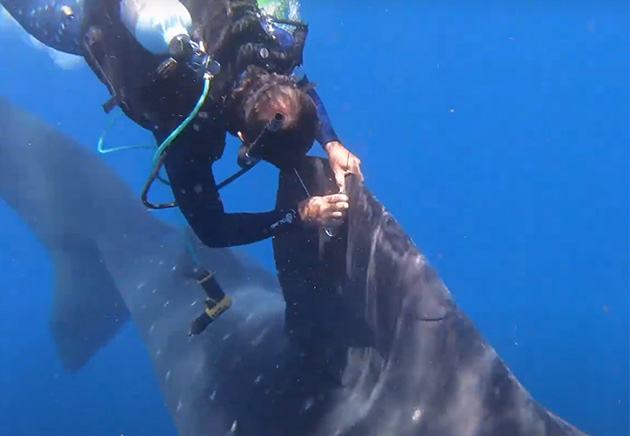 You and NSU – the Sky's the Limit
Your support and involvement helps us create, investigate and improve the world around us. Join us in our passion to bring out the best in our students, our society, our environment and our economy.