Ph.D. in Conflict Analysis and Resolution
The Ph.D. program in Conflict Analysis and Resolution trains students in the skills and techniques of practice, interdisciplinary research, policy and program development, historical critique, cultural analysis, and theoretical foundations of the field. The mission of the doctoral program is to advance the study and practice of conflict analysis and resolution by mentoring and developing practitioners trained in theory, practice, research, teaching, and informed leadership in the field. Students pursue an in-depth study in the field of conflict resolution while drawing from a variety of theoretical perspectives and the knowledge of an experienced, interdisciplinary faculty.
The 76-credit hour degree program is designed to prepare graduate students for careers as advanced practitioners, college and university educators, researchers, theoreticians, consultants, program evaluators, and organization administrators. The Ph.D. program is offered in both residential and distance learning formats. These flexible formats allow mid-career working adults and those unable to attend the on-campus program, to study conflict resolution in a creative, rigorous, and structured fashion. The distance learning Ph.D. program is one of the few offered nationally in the fields of peacemaking and conflict resolution. Students enrolled in the distance learning program participate in Residential Institutes on the main campus twice per year, as well as online Web-based courses.
The Ph.D. program focuses on improving skills for reflective practice, understanding, and mastering qualitative and quantitative research knowledge and analysis, developing professional leadership skills, and producing publications of quality and substance.
In addition to core courses, students may pursue concentrations in the following areas:
Community-based conflict
Conflict in Organizations
Global Conflict
Interpersonal Conflict
Program Curriculum | Total Credits: 76
Program Formats
The Ph.D. program is offered in both residential and distance learning formats. Students who take 9 credits per trimester can expect to complete the program's coursework in 2 ½ years, followed by a dissertation. Students who take 6 credits per trimester will complete the program's coursework in 4 years, followed by a dissertation. Courses are offered during 3 terms a year: Fall, Winter, and Summer.
Students taking distance learning classes are required to attend two Residential Institutes (RI) per academic year. Each RI is 5 days. Currently, the RIs are held in the fall and winter, in February and late September or October. Please visit the Residential Institute page for current information.
Doctoral students are provided NSU computer accounts including email and Canvas but must obtain their own Internet service providers, use their own computer systems, and have a usable web camera. Distance learning students use the web to access course materials, announcements, email, distance library services, subscription library databases, and other information, and for interaction with faculty and fellow students. Online, interactive learning methods are based on the use of Canvas as a course management system. Online activities facilitate frequent student-to-faculty and student-to-student interaction. They are supported by threaded discussion boards, whiteboards, chat rooms, email, and multimedia presentations. In addition, Canvas enables students to submit assignments online in multimedia formats and to receive their professors' reviews of assignments online in the same formats.
Transferring Credits
Applicants to our Ph.D. program can transfer up to 15 credits from a Masters's degree in a related field.
Joint Degree
The Department of Conflict Resolution Studies will accept credits from the J.D. program offered through the Shepard Broad College of Law and apply them towards the Ph.D. in Conflict Analysis and Resolution. The Conflict Analysis and Resolution Ph.D. program will accept 6 credits. Students must complete both programs to obtain the dual credits.
Students must seek admission independently to both the Department of Conflict Resolution Studies housed in the Halmos College of Arts and Sciences and the Shepard Broad College of Law.
M.S./Ph.D. - CONFLICT RESOLUTION STUDIES
VIRTUAL OPEN HOUSE
THURSDAY, MARCH 4 | 5:00 PM - 6:30 PM
*Click on the FLYER for more information or to RSVP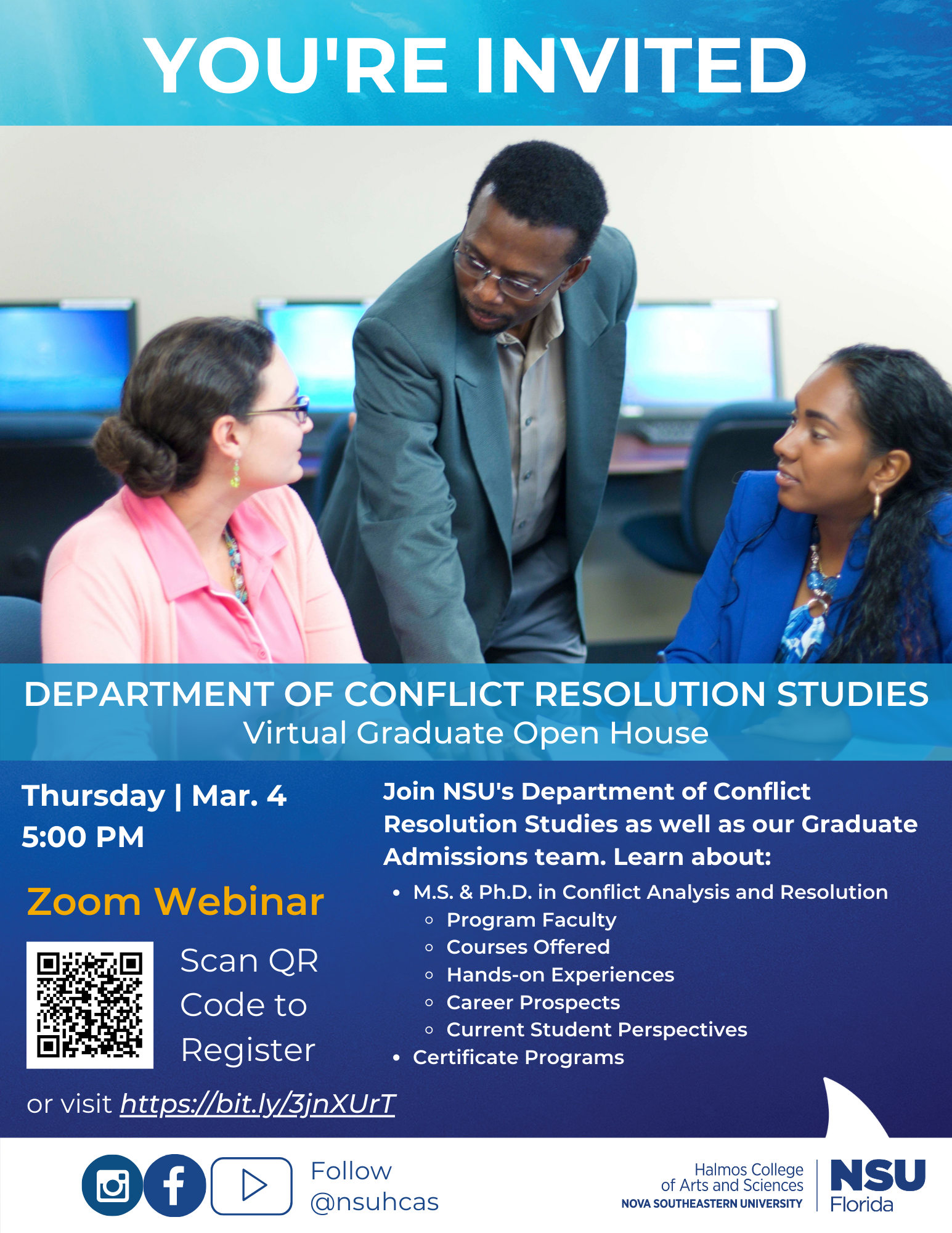 1
Completed NSU Graduate Application and $50 Non-refundable Application Fee
2

Official transcripts from all colleges or universities you attended need to be mailed directly to Enrollment Processing Services (EPS), including agency evaluation of foreign degrees for determination of U.S. equivalence (including Canadian transcripts). International Students should visit the Office of International Affairs for further information.

3
An admissions essay, 500-1,000 words. This essay should tell us why you are interested in the program to which you are applying for, as well as your professional goals, your assessment of your abilities to manage the challenges of graduate school, and any other information you would like to provide.
4
An academic writing sample (it can be an academic paper, submitted journal writing, or a piece of professional writing).
5
Submit (3) Letters of Recommendation 
6
Minimum master's program GPA of 3.5.
7
A resume or curriculum vita
8

For non-native English speakers and graduates of foreign institutions (where English is not the primary language instruction). Demonstrate English-language proficiency is required through one of the following options:

Successful completion of a degree at an approved U.S. institution of higher education where English is the primary language of instruction.
Test of English as a Foreign Language (TOEFL) official score of 213 on the computerized test, 550 on the paper test format, or 79 on the Internet format. 
Urszula Strawinska Zanko, Ph.D.
Department Chair & Associate Professor

Department of Conflict Resolution Studies

 

Judith McKay
Director of Doctoral Programs

Associate Professor
Department of Conflict Resolution Studies

Nicole Chavannes

Assistant Director 
HCAS Graduate Admissions
The Ph.D. in Conflict Analysis and Resolution program enrolls new students every fall and has a course delivery method allowing students to complete the program within (5-6) years. The academic courses are delivered both online, virtual, and on-campus delivery.
| | |
| --- | --- |
| ENTRY TERM (START) | DEADLINE DATE  |
| Fall 2021 | July 24, 2021 |