M.S. in National Security Affairs and International Relations
The 36 credit M.S. in National Security Affairs and International Relations in the Department of Humanities and Politics is designed to provide students with theoretical, research, and applied skills in the emerging academic field of national security affairs. Students in this program will build a core understanding of critical issues informing the field of national security today, including the assessment and analysis of the threat of terrorism in the U.S. and beyond, and the analysis of intelligence collection. Students will also develop a deep understanding of the international context in which U.S. national security issues are shaped.
National Security Affairs is one of the fastest growing professions with positions open in the public sector in the federal, state and local governments and in the private sector. This program is designed both for professionals and those aspiring for careers in the field, as well as for students with a strong academic interest in security affairs and international relations. The program is offered in entirely online format and in hybrid format. Students selecting the hybrid format would take a combination of courses at the Fort Lauderdale/Davie Campus and online. A minimum of one campus-based course is offered each semester.
National Security Affairs & International Relations
VIRTUAL OPEN HOUSE
TUESDAY, MARCH 23 | 6:00 PM to 7:30 PM
*Click on the FLYER for more information or to RSVP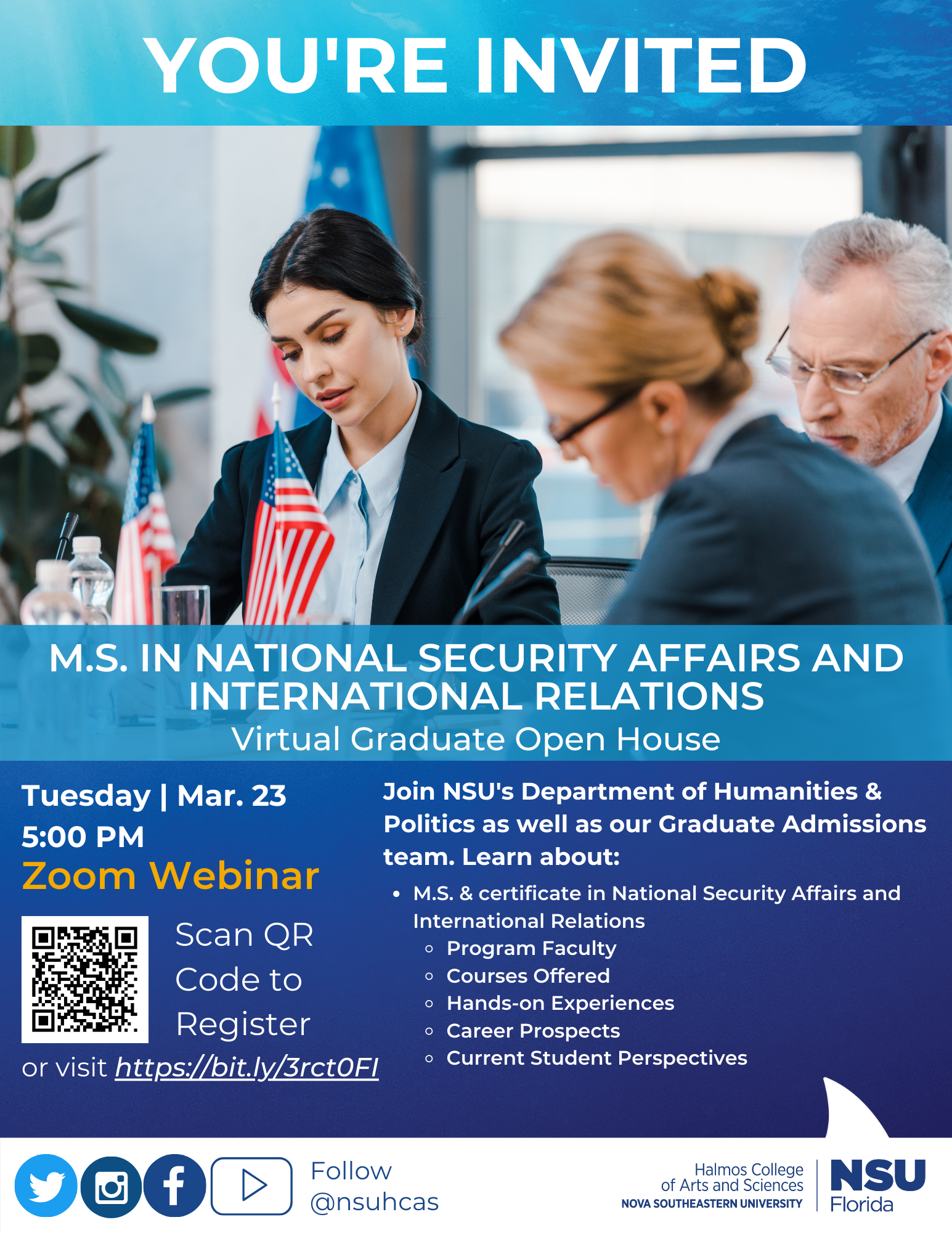 1
Completed NSU Graduate Application and $50 Non-refundable Application Fee
2

Transcripts from all previously attended higher education institutions including degree conferral.  

International students: proof of all coursework from international institution(s), if applicant attended any international institutions. Coursework taken at foreign institutions must be evaluated for U.S. institution equivalence by an approved National Association of Credential Evaluation Services (NACES) organization. 

3
An admissions essay - please briefly (500-1,000 words) explain why you are interested in the Master of Science in National Security Affairs and International Relations program, your professional goals, your assessment of your abilities to manage the challenges of graduate school, and any other information you would like to provide. The personal statement helps us get to know you beyond the objective data provided in review of your course grades and other objective information. It also demonstrates your ability to communicate your thoughts in a professional, organized, and succinct manner.
4
An academic writing sample (it can be an academic paper, submitted journal writing, or a piece of professional writing). 
5
Submit two academic or professional letters of recommendation written within the past six months.
6
Undergraduate GPA of 3.0 or higher; master's GPA 3.0 or higher.
7

For non-native English speakers and graduates of foreign institutions (where English is not the primary language instruction). Demonstrate English-language proficiency is required through one of the following options:

Successful completion of a degree at an approved U.S. institution of higher education where English is the primary language of instruction.
Test of English as a Foreign Language (TOEFL) official score of 213 on the computerized test, 550 on the paper test format, or 79 on the Internet format. 
The M.S. in National Security Affairs and International Relations program enrolls new students every academic semester and has a course delivery method allowing students to complete the program within (2) years.
| | |
| --- | --- |
| ENTRY TERM (START) | DEADLINE DATE  |
| Summer 2021 | April 15 |
| Fall 2021 | July 17 |
| Winter 2022 | November 15 |