M.S. in Conflict Analysis and Resolution
The M.S. in Conflict Analysis and Resolution is designed to train reflective professionals in the practice, design, and evaluation of a variety of conflict resolution applications. The M.S. program focuses on pragmatic approaches to solving problems inherent in human social relations. Students are exposed to a wide array of techniques and strategies to help people achieve nonviolent, non-litigious solutions for conflicts that arise in many personal, professional, organizational, and social environments. The M.S. program consists of a 12-course (36 credits) sequence that includes conflict resolution theory, practice skills, field placement, research design, and program evaluation.
Program Format
Students may enroll full or part-time, taking six to nine credit hours per semester. These flexible formats allow working adults and those unable to attend the on-campus program, to study conflict resolution in a creative, rigorous, and structured fashion.
Students taking online classes are required to attend 2 Residential Institutes (RI) per academic year. Each RI is 5 days. Currently, the RIs are held in February and October. Please visit the Residential Institute for current information.
Joint Degree
The Department of Conflict Resolution Studies will accept credits from the J.D. program offered through the Shepard Broad College of Law and apply them towards the M.S. The Conflict Analysis and Resolution M.S. program will accept 9 credits from the law program. Students must complete both programs to obtain the dual credits.
Students must seek admission independently to both the Department of Conflict Resolution Studies housed in the Halmos College of Arts and Sciences and the Shepard Broad College of Law.
Program Curriculum | Total Credits: 36
 Core Courses - (36 Credits) 
| | | |
| --- | --- | --- |
| Course Number | Course Name | Credit Hours |
| CARM 5000 | Foundations and Development of Conflict Resolution and Peace Studies | 3 |
| CARM 5040 | Communication Dynamics in Dispute Resolution: The Human Factor | 3 |
| CARM 5100 | Mediation Theory and Practice | 3 |
| CARM 5140 | Negotiation Theory and Practice | 3 |
| CARM 5200 | Research Design and Program Evolution  | 3 |
| CARM 6120 | Culture and Conflict: Cross-Cultural Prerspectives | 3 |
| CARM 6130 | Practicum I: Supervised Field Experience | 3 |
| CARM 6140 | Facilitation Theory and Practice | 3 |
| CARM 6150 | Professional Practice and Ethics | 3 |
| CARM 6450 | MS Capstone | 3 |
Students are required to complete (6) credit hours of electives.
M.S./Ph.D. - CONFLICT RESOLUTION STUDIES
VIRTUAL OPEN HOUSE
THURSDAY, MARCH 4 | 5:00 PM - 6:30 PM
*Click on the FLYER for more information or to RSVP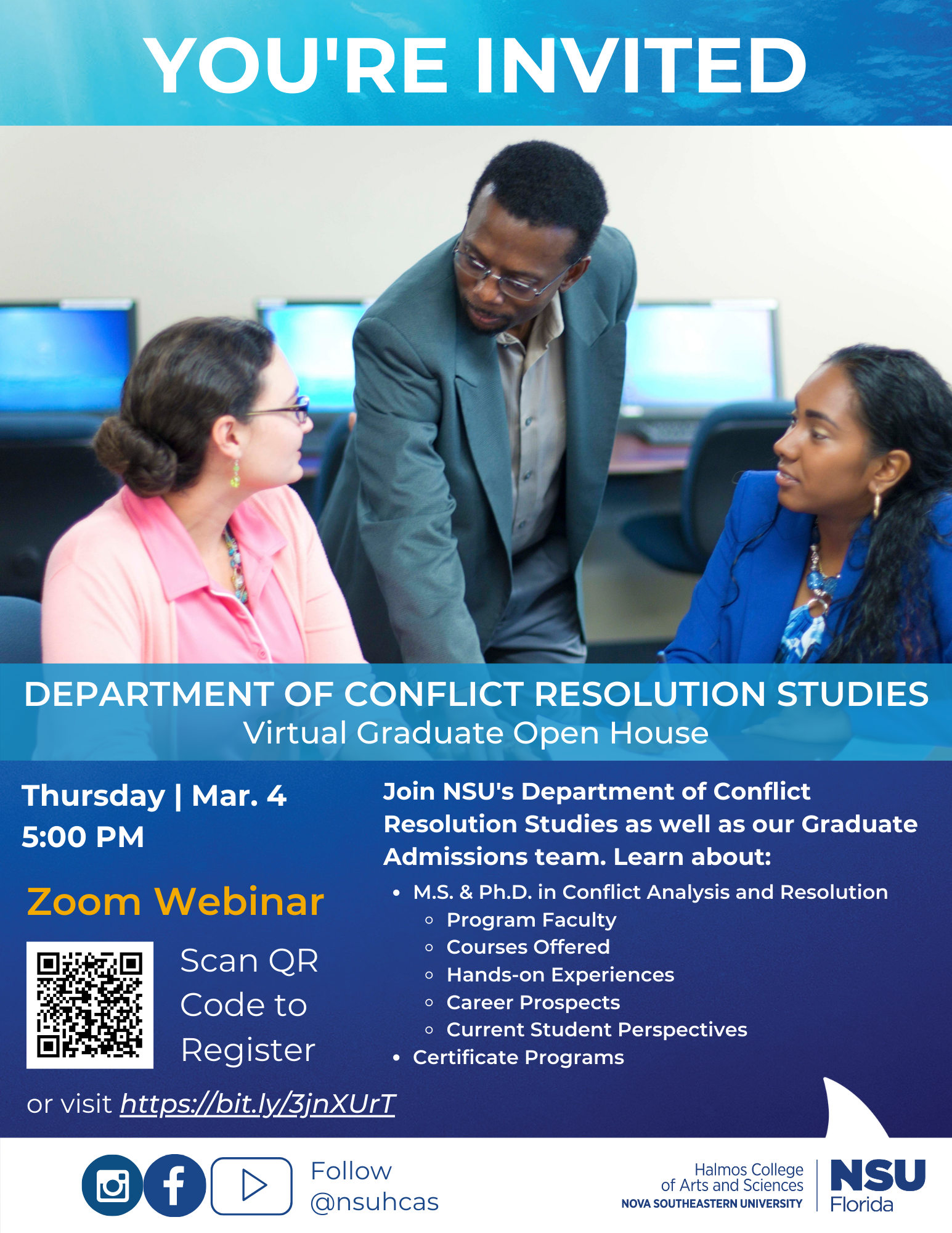 1
Completed NSU Graduate Application and $50 Non-refundable Application Fee
2

Transcripts from all previously attended higher education institutions including degree conferral.  

(Applicants who have not yet completed their undergraduate degree programs may submit official transcripts prior to degree conferral to be considered for provisional admission. Final official transcripts must be submitted to receive full admission into the program.) 

3
Personal Statement of approximately 500 words, detailing the ways in which the program may help the applicant achieve his or her goals. 
4
An academic writing sample (it can be an academic paper, submitted journal writing, or a piece of professional writing). 
5
Submit (2) Letters of Recommendation 
6
Undergraduate GPA of 3.0 or higher
7

For non-native English speakers and graduates of foreign institutions (where English is not the primary language instruction). Demonstrate English-language proficiency is required through one of the following options:

Successful completion of a degree at an approved U.S. institution of higher education where English is the primary language of instruction.
Test of English as a Foreign Language (TOEFL) official score of 213 on the computerized test, 550 on the paper test format, or 79 on the Internet format. 
Urszula Strawinska Zanko, Ph.D.
Department Chair & Associate Professor

Department of Conflict Resolution Studies

 

Elena Bastidas
Director of Master's & Certificate Programs

Associate Professor
Department of Conflict Resolution Studies

Nicole Chavannes

Assistant Director 
HCAS Graduate Admissions
The M.S. in Conflict Analysis and Resolution program enrolls new students every academic semester and has a course delivery method allowing students to complete the program within (2) years. The academic courses are delivered both online, virtual, and on-campus delivery.
| | |
| --- | --- |
| ENTRY TERM (START) | DEADLINE DATE  |
| Summer 2021 | April 15 |
| Fall 2021 | July 17 |
| Winter 2022 | November 15 |