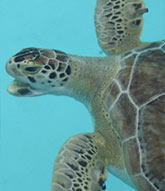 Captain
MEEC Sea Turtle Ambassador
Known for her charisma and sass, Captain is the resident sea turtle at the Marine Environmental Education Center. Here, she loves to revel in the attention of all of her adoring fans while soaking up the warm, South Florida sunshine. Unfortunately, her life hasn't always been so glamorous.
Captain was struck by a boat in 2010, and she stranded later that year due to complications from that injury. She spent three years in rehab at the Georgia Sea Turtle Center, where she was cleared for release! Unfortunately, less than a month after being released in October 2013, she re-stranded with floating issues. After a couple more stints in rehab at GSTC and then Mote Marine Lab, it was determined that Captain would never be fit to swim in the open ocean again, as she was unable to dive without the assistance of weight-therapy.
Fortunately, Captain was able to find her dream pool at a historic house right on Hollywood Beach, Florida! She welcomes you to come down and learn all about South Florida's marine ecosystems at the MEEC. She can't wait to meet you!
Captain's Favorites:
Sandwich: Lettuce and cucumber
Holiday Activity: Swimming on a hot 4th of July
Color: Green
Captain's Hobbies:
Interacting with enrichment devices
Eating luscious salads
Napping in the deep end