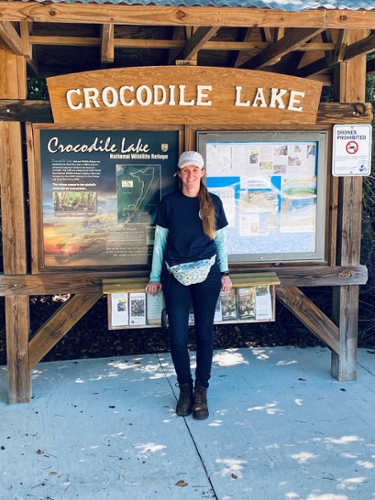 Sam Olszak
Volunteer Coordinator and Educator
Samantha was born on the Illinois side of Saint Louis. She spent hours every day exploring her family's farm and cultured a love of caring for animals.  She moved to Florida very young and her fondness for marine animals grew with each trip to the beach.  Her interest in the ocean led her to complete her Bachelors degree in Marine Biology at Florida International University.  During her time as an undergrad, she interned for several laboratories, including the Marine Macroalgae lab, Tropical Fish Ecology lab, as well as U.S. Fish and Wildlife in Key Largos Crocodile Lake National Wildlife Refuge.  While attending school Samantha also taught school to Elementary students in South Florida as an Elementary Associate and Substitute Teacher.  Here she was able to share her passion of marine conservation and inspire the next generation of students to protect the environment.  Samantha is progressing in her education journey as a Master's of Science student at Nova Southeastern University in Marine Sciences, while simultaneously continuing her passion to educate others as a Marine Education Specialist and Volunteer Coordinator here at the MEEC.

Get To Know Sam

If you had any super power, what would it be and why?
Time Travel!  I would love to experience living in the "Wild West" or during Victorian ages, but also want to experience new technological advances in years to come.

If you had a million dollars, what would you do with it?

If I had a million dollars, I would have to use some to travel abroad to see the castles of Europe!  I would then have to invest the rest!

If you could time travel, would you go to the past or the future?
I would love to travel into the future and hope there would be great advances in space travel!  Where will we be in 100 years? 1000 years?