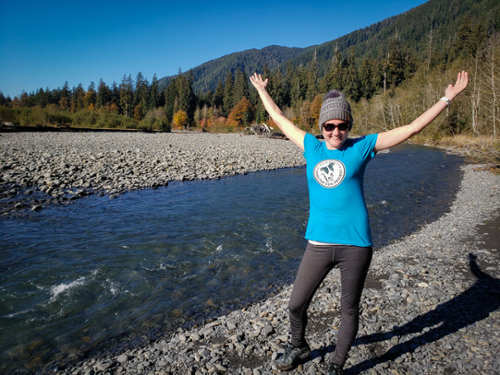 Kelly Martin
Program Coordinator

Kelly grew up in Michigan with a love for all animals and nature. After an internship working with sea turtles, she was hooked. After graduating from Michigan State University and completing an internship with leatherbacks in southeast Florida, she took a job in animal care at the Clearwater Marine Aquarium and then at Mote Marine Lab. She cared for captive loggerhead, green, hawksbill, and Kemp's ridley sea turtles. While working at Mote, she completed her Master's in Marine Science at the University of South Florida while studying the auditory and cognitive abilities of captive sea turtles. She then moved back to the east coast where she conducted nesting surveys, leatherback tagging and tracking, and lighting compliance surveys in Palm Beach County for ten years. She is currently the president of Florida Leatherbacks Inc., a nonprofit that conducts leatherback sea turtle research in Martin County. When not spending her time with turtles she loves to play with her rescue dog, Gypsy, travel, camp, hike, and volunteer with the dogs at her local animal shelter.

Get To Know Kelly

If you had any super power, what would it be and why?

I would be able to teleport so that I could instantly travel anywhere in the world because my dream is to be able to see every single place on the planet (and it would eliminate my 1.5 hour commute to work!).

If you had a million dollars, what would you do with it?

I would take my parents, sister, brother-in-law, nephew and nieces on a family vacation and then travel to all of the world's most incredible natural places. I would start with Finland to see the northern lights, an African Safari, and Raja Ampat, Indonesia. 

If you could time travel, would you go to the past or the future?

I would travel back to the late cretaceous period to see the world during the time of the dinosaurs but particularly to see Archelon, the biggest sea turtle to ever exist (15' long and 13' wide!).