Prepare for Your Next Step in Health Care
Nova Southeastern University's Master of Science in Biological Sciences, with a concentration in Health Studies, is a 12-month, 30-credit program designed to better prepare graduates of undergraduate science programs for entrance into health or medical professional schools. It offers the opportunity for students to enhance their academic records, improve test scores, and obtain a graduate degree.
The rigorous coursework you'll take in this program will prepare you for health-related professional schools and health-related employment. NSU's M.S. in Biological Sciences with a concentration in Health Studies program includes a free Kaplan test preparation course, which allows you to choose the test prep course appropriate to your career goals (e.g., MCAT, DAT, and PCAT).
Guaranteed Interviews
While enrolled in this program, students will have a guaranteed interview with the following programs AFTER having met specific program requirements available from the program office.
Doctor of Pharmacy (PharmD.)
Doctor of Dental Medicine (D.M.D.)
Doctor of Optometry (O.D.)
Master of Medical Science (Physician Assistant)
Master of Sciences in Anesthesia (Anesthesiologist Assistant)
Get the NSU Edge
Get to know some of our graduates that completed this program and went on to pursue their passions. Our graduates are adept at critical thinking, conducting research, and critiquing evidence-based findings to summarize conclusions. An M.S. in Biological Sciences degree with a concentration in Health Studies from NSU isn't only beneficial, it can give you a competitive edge!
Quick Facts
Curriculum
NSU's M.S. in Biological Sciences with a concentration in Health Studies is a lock-step program with 30 total credits to complete. You will be required to complete the curriculum in the order set in the curriculum plan.
Start Dates
The M.S. in Biological Sciences with a concentration in Health Studies accepts applications for the summer semester only.  NSU's Summer term begins in June.
Delivery Options
Classes for the M.S. in Biological Sciences with a concentration in Health Studies are offered at NSU's Fort Lauderdale/Davie campus.
Tuition
Application Deadline
The Summer 2022 entry deadline is May 2023.
Biological Sciences - Health Studies Curriculum
View PDF
Summer 1 (6 credits)
Credits
BCOR 5000
Graduate Seminar
(BCOR 5000 / Credits: 3 )
3
BMHS 5105
Physical Diagnostics Skills
(BMHS 5105 / Credits: 3 )
3
BMHS 5110
Introduction to the Dental Professions
(BMHS 5110 / Credits: 3 )
3
Fall 1 (12 credits)
Credits
BMHS 5200
Pathophysiology
(BMHS 5200 / Credits: 3 )
3
BMHS 5300
Pharmacodynamics
(BMHS 5300 / Credits: 3 )
3
BMHS 5400
Advanced Regional Anatomy/Lab
(BMHS 5400 / Credits: 3 )
3
BMHS 5500
Advanced Biochemistry
(BMHS 5500 / Credits: 3 )
3
Winter 1 (12 credits)
Credits
BCOR 5150
Immunobiology
(BCOR 5150 / Credits: 3 )
3
BCOR 5350
Principles of Epidemiology
(BCOR 5350 / Credits: 3 )
3
BMHS 5450
Integrated Systems in Health Studies
(BMHS 5450 / Credits: 3 )
3
BMHS 5250
Systems Neuroscience
(BMHS 5250 / Credits: 3 )
3
Admissions Requirements
NSU Graduate Application 
Baccalaureate degree from an accredited academic institution.
Official Transcripts from all educational institutions attended since high school.
Minimum cumulative GPA to be considered for Admission: 3.0
(2) Letters of Recommendation, one coming from an Academic Professor
Graduate Record Examination (GRE) is not required but will be accepted.
GRADUATE OPEN HOUSE
We hope you will join us for our Graduate Open House on Thursday, November 3rd at 5:30 p.m. to learn more about Biological Sciences, including careers within the field, NSU's graduate degree offerings, and the application process.
Program directors and department faculty from the Department of Biological Sciences and NSU Halmos College of Arts and Sciences Graduate Admissions will be in attendance to answer your questions about your program(s) of interest.
You'll learn about program faculty, courses offered, career prospects, and DOBS's graduate programs.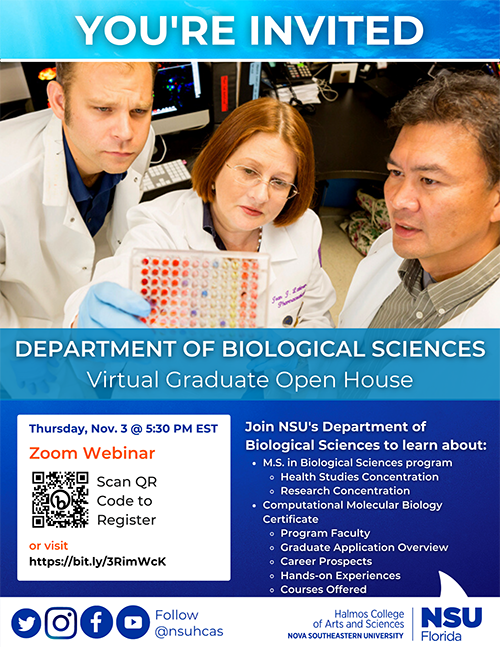 DEPARTMENT OF BIOLOGICAL SCIENCES
Virtual Graduate Open House
Join NSU's Department of Biological Sciences to learn about:
M.S. in Biological Sciences program

Health Studies Concentration
Bioinformatics Concentration

Computational Molecular Biology Certificate

Program Faculty
Graduate Application Overview
Career Prospects
Hands-on Experiences
Courses Offered
visit: https://bit.ly/3RimWcK
Program Director and Admissions Staff
Deanne Roopnarine, D.P.M.
Program Director
Department of Biological Sciences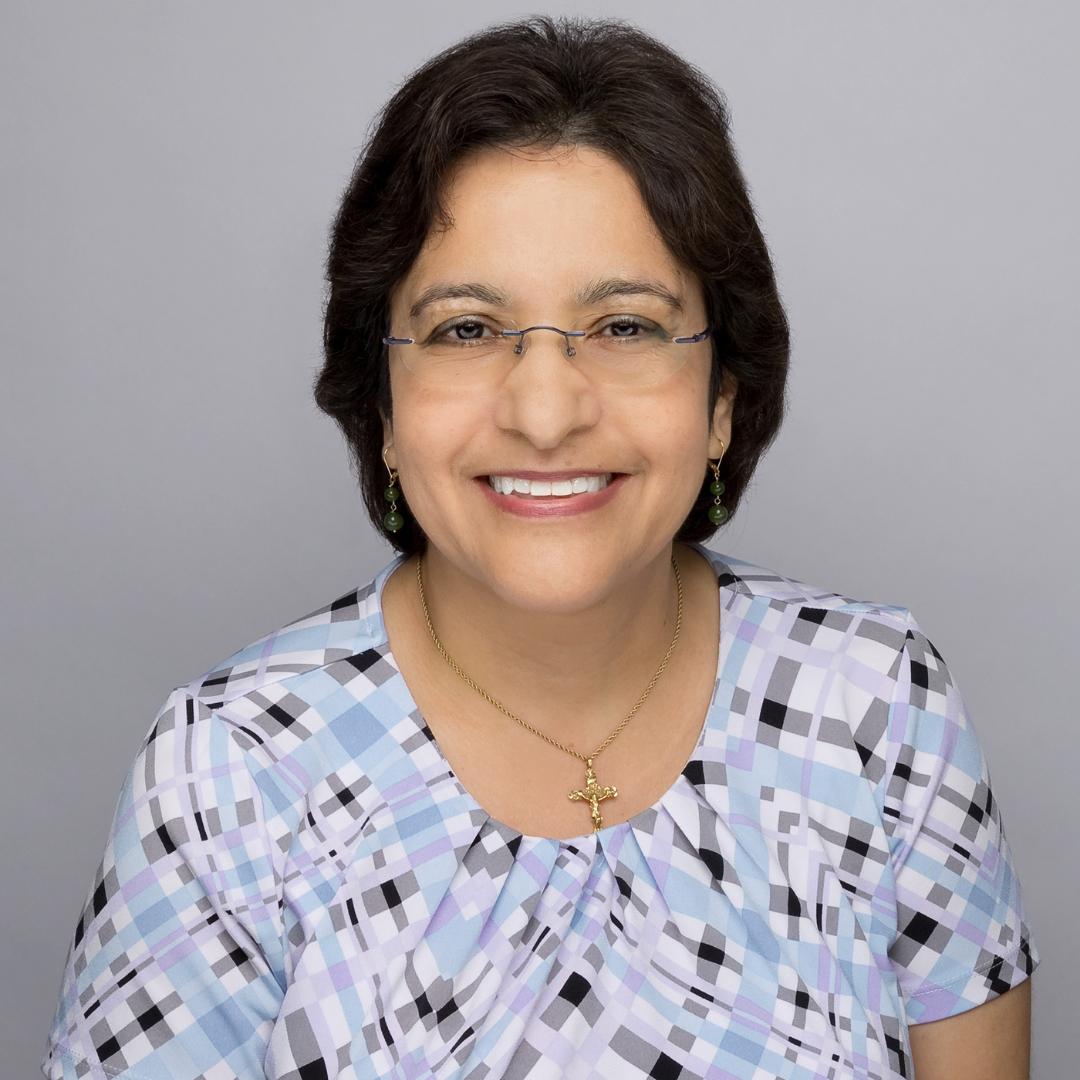 You and NSU – the Sky's the Limit
Your support and involvement helps us create, investigate and improve the world around us. Join us in our passion to bring out the best in our students, our society, our environment and our economy.