The World is Waiting to Hear the Music You Create
As a music major at Nova Southeastern University, you'll be prepared to meet the high expectations in the very competitive music industry. NSU's B.A. in Music will teach you to produce music which is innovative, dynamic and ultimately, market-driven. The music program blends the technological and professional requirements of today's job market with a compact curriculum that builds fundamental skills in analytical thinking through theoretical study and a broad examination of music's sociological contexts.  
Ensemble provides the synthesis where music majors focus on the commercial aspects of producing music in a variety of musical genres and styles with an emphasis on problem solving, effective collaboration and adaptability. Targeted, skills-based electives complement music studies to prepare you for careers in popular music, gaming, advertising/marketing, music editing, podcasting, film/media industry and more.
Your classes are taught by expert faculty who are invested in your musical development. They'll help you find internships that suit your interests and encourage you to showcase your talent in a vast array of performing and producing opportunities. NSU's B.A. in Music will help you craft your personal path to success. 
Why Should You Major in Music at NSU?

Opportunities for interdisciplinary collaborations

Perform for the community in the Mako ensembles Student-run radio station: Mako Radio 88.5FM

NSU is home to incredible rehearsal spaces, classrooms and performance venues including the Rose & Alfred Miniaci Performing Arts Center

Opportunities to present in the college's Festival of Student Works and other showcases

Exclusive internship and scholarship opportunities for NSU Music students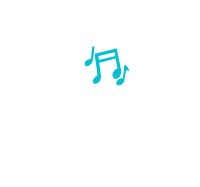 Learn from professional musicians

South Florida is home to a diverse mix of music genres
Previous
Next
Become a Music Producer, Film Composer or Music Teacher
With your NSU Music degree, you can become the music producer, film composer or music teacher that everyone loves. You can showcase your talent as a soloist or in an ensemble of professional musicians. You can work for a record label or a music manager and explore your musical vision for a lifetime of rewards. Graduates of this program are recording their own music and pursuing related graduate degrees.

Average Starting Salary
According to the U.S. Bureau of Labor Statistics, music graduates have the potential to earn an average of $61,410 as secondary school teachers or more than $100,090 as promoters of performing arts events. Independent artists, writers and performers earn around $72,510 as an average, but high-profile artists can earn into the millions.

Shark Destinations
NSU Music alumni go on to enjoy exciting and rewarding careers. Graduates of this program can become leaders in a variety of professional positions including composer for advertisements, conductor, film and tv music supervisor, gaming composer, music attorney, music librarian, music producer and promoter, recording artist, recording engineer, sound designer, talent manager and more. Additionally, NSU Music graduates have found success in graduate programs, teaching music, writing music and touring internationally.  
In addition to music concerts, students who study music at NSU open themselves up to numerous interdisciplinary opportunities. This could be writing original music for a dance production, creating sound design for a theatre show or performing at an art gallery exhibit. Students in the past have even had radio airplay through NSU's Mako Radio, and scored original musical themes for a podcast.
Students have had great experiences with the Josie Music Awards and the National Association of Music Merchants and all kinds of ensembles, from traditional to experimental, including the NSU Vocal Ensemble, the Mako Band (Commercial Ensemble), the Pistris Chamber, the Bossa Nova Chorale and the Digital Music Ensemble. Opportunities for showcasing your talent are endless at NSU!
NSU Music students also enjoy exclusive internships. Some companies and organizations that students have interned at in the past include MN2S, the School Board of Broward County and Wired Sound Academy.
Reserve your seat in one of NSU's graduate or professional schools while you earn your bachelor's degree. With NSU's Dual Admission program, you don't have to worry about competing with thousands of other students for a spot in a highly selective graduate program. This Premier Program gives you an opportunity to get a head start on your career, so you can start earning sooner.   
Your NSU professors are dedicated to ensuring that you have a great academic experience. They regularly review the curriculum to make updates that give you an edge in today's ever-changing world. As an NSU Music major, some sample courses that you could take include Audio/Radio Production, Advanced Video Editing, Public Relations Campaigns and Popular Music in Western Culture. Visit the B.A. in Music curriculum to view detailed course descriptions and plans of study. 
Integrating minors across the arts and science curricula allows NSU's Halmos College undergraduates to be creative and critical thinkers through their diverse learning experiences. You'll gain fresh perspectives by thinking experientially as well as experimentally.