The following testimonials represent the diverse learning experiences, academic achievements, and post-graduation successes of the alumni of the Department of Chemistry and Physics.

If you're an alumnus/a of our department, we'd like to hear from you! Contact our faculty or department chair to share your academic, professional, or personal success story.
Where Can a Degree in Chemistry Take You?
Amanda Chung
Chemistry Major
Class of 2018 (Graduate School)

Chemistry Ph.D. Candidate, University of California, Irvine
"I had no idea what I wanted to do walking into NSU, but with the guidance of the professors in this department, I found my true passion: chemistry. The excitement that exudes off the professors inside and outside of lectures and labs is unrivaled. Not only did I gain exceptional laboratory and research experience,  but also life-long mentors and role models. The guidance and passions of the professors of  the Chemistry Department at NSU remains the reason why I have chosen to pursue a Ph.D."
Emily Pope
Chemistry, Biology, and Marine Biology Majors
Class of 2018
Masters of Veterinary Medicine, Specialty in Biomedical Sciences at the Atlantic Veterinary College
"The chemistry department at NSU helped me realize that chemistry doesn't just have to be working in a lab or solving problems behind a desk all day. Thanks to the support and guidance of the outstanding faculty, I learned that I could combine my passion for exploring the mysteries of the ocean with my desire to study chemistry. Whether analyzing the natural compounds produced by marine organisms or scuba diving to collect samples, my experience has made me exceptionally prepared for whatever challenges I may encounter."
Jake Bence
Chemistry Major
Class of 2018 (Graduate School)

Chemistry Ph.D. Candidate, City University New York Graduate Center
"NSU's chemistry program not only persuaded me to pursue a graduate degree in chemistry, but it helped prepare me for life after my degree. With access to expert faculty, well-equipped labs, and the opportunity for research, I became more than prepared for a career in chemistry. In addition, I learned how to give research presentations, network, and develop soft skills crucial for a career in science. Through the help of the chemistry faculty, I was accepted to present at two ACS conferences, then in an internship at a national laboratory, and later into a great graduate school. The faculty truly care about their students and help you succeed in whatever it is you want to do."
Ava Pasnon
Chemistry Major, Math Minor
Class of 2018 (Graduate School)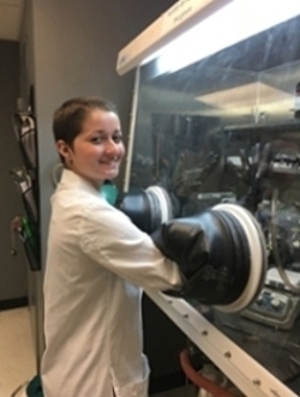 Masters of Chemistry, University of Oregon
"NSU's chemistry program allowed me to explore the endless opportunities associated with majoring in chemistry to get me where I am today as a professional woman in STEM, as well as providing opportunities to do research with access to advanced equipment and instrumentation. The undying support of faculty mentors and the close relationships I built with fellow students in the program made it feel like family; they pushed me to always do my best and ultimately helped me make the decision to further my education in chemistry and physics."
Safiyah Muhammad
Chemistry Major, Math Minor
Class of 2016
Candidate, Ph.D. in Chemistry, University of Illinois
"It was because of the chemistry department at NSU that I have chosen to pursue a career in the field of chemistry. The tight network of faculty, who genuinely care about the students, and the access to high-caliber research and tools gave me the upper edge that I needed to get into a top 10 graduate school for chemistry. Not many students at other universities have access to the opportunities that are present at NSU, and that is what I appreciated most from the program."
Sara Rodriguez
Chemistry and Biology Double Major
Class of 2016
Candidate, Doctor of Osteopathic Medicine, NSU
"Being a chemistry major as an undergraduate was a great way to unlock my problem solving potential. Being able to think on one's feet in medical school is very important and it is a skill I am relieved to have learned while in the comfortable environment of the small class sizes at NSU and in the capable hands of the amazing professors who want nothing but to see you succeed."