The following testimonials represent the diverse learning experiences, academic achievements, and successes of the current students and alumni of the Department of Conflict Resolution Studies.
If you're a current student or alumnus/a of our department, we'd like to hear from you! Contact our faculty or department chair to share your academic, professional, or personal success story.
M.S. Program
Anita Sugimura Holsapple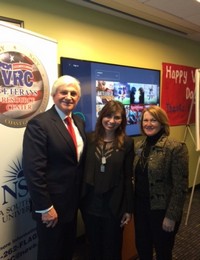 M.S. | Class of 2008
Anita Sugimura Holsapple, a graduate of our MS program in Conflict Analysis and Resolution, recently produced a film entitled Battlefield: Home—Breaking the Silence. It includes stories of what our veterans have to battle upon their return home from duty.
The film gives insight into the chronic PTSD that some returning veterans suffer and the challenge that they face in trying to re-enter non-war scenarios. This PTSD not only affects the soldier but their family as well. Owing to pride and a fear of being labeled, these veterans often hesitate to get help. The survival skills necessary for the battlefield are soon discovered to be less than adequate for the fight back to normalcy upon return from the battlefield. The invisible wounds of war are often difficult to diagnose and cope with.
Anita screened the film in 2016 at NSU's Veterans' Resource Center, and it was viewed by a packed room of faculty, staff, students, community members, and the President of the university himself, Dr. George Hanbury. United States Marine Corps Veteran and NSU student Walter Castio stated that he "found the video to be interesting and accurate, as it is a struggle for vets when they come back from overseas. This research may be the beginning of significant change, as people tend to pay more attention to the visual than just solely data and words on paper."
Ph.D. Program
Bob Hosea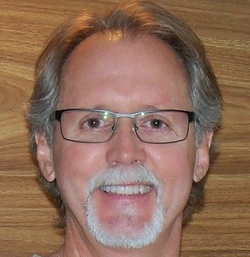 Ph.D. | Class of 2011
Since 2015, Bob Hosea has been the Civil ADR Branch Chief in the Multi-Door Dispute Resolution Division of the DC Superior Court in Washington, DC. Having developed awareness of the Multi-Door Court House concept during his time in DCRS, he was excited to be a part of one of the earliest court based mediation programs in the US. Currently, the Civil ADR Branch mediates approximately 4,000 court-referred cases a year including Civil Actions, Small Claims, Landlord & Tenant, Tax and Probate matters. In his role, he provides leadership and supervision for an eight member staff and a roster of 125+ volunteer mediators.
Hosea's prior education and career experiences provide a solid foundation for his work with Multi-Door. He graduated from DCRS in 2011 with a degree concentration focused on conflict analysis and resolution theory and practice for organizational and higher educational settings. While completing his degree, he sought multiple avenues to build his experience in the field. For example, in 2004, with help of DCRS colleagues, he initiated and developed the Student Mediation Services for the Division of Student Affairs at Nova Southeastern University offering a variety of conflict management and resolution services to students and student affairs staff. The service also operated as a practicum site for DCRS students interested in developing practitioner experience. Bob served as the administrator of the program until 2010.
Upon graduation from DCRS, Hosea accepted an internship with the Office of the Ombudsman at the National Institutes of Health, followed by serving for 2.5 years as an Associate Ombudsman with the Office of the Ombudsman at the American Red Cross.
Angela E. Dash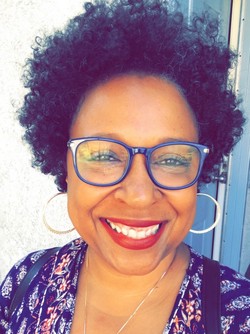 Ph.D. | Class of 2016
Angela Dash earned her Ph.D. in Conflict Analysis and Resolution from DCRS. Dr. Dash is a coach, trainer, and organizational ombuds. Here are some highlights from her past and current professional life.
Dr. Dash continues to serve all students, faculty and staff as the Ombuds for Northeast Ohio Medical University, as an external independent contractor;
In January of this year, she began serving as an on-call (reservist) Alternative Dispute Resolution Advisor for the Federal Emergency Management Agency (FEMA) and has served so far in two deployments connected to Hurricane Harvey in Texas. In this role, she provided on-call and on-disaster professional conflict prevention and resolution services to FEMA employees to help foster collaborative and effective disaster operations to support the primary mission of aiding disaster survivors. Services to employees include confidential one-on-one consultation, coaching, troubleshooting assistance, support for difficult conversations, group and meeting facilitation, teambuilding, training, mediation, large group participation processes, and assistance to managers seeking to identify sources of problems and inefficiencies.
Earlier this year, Dr. Dash completed a Graduate Certificate in Executive and Professional Coaching through the University of Texas at Dallas and earned the credential of Professional Certified Coach through the International Coach Federation.
She does freelance coaching through Bravely, a new type of employee benefit offered to companies, where they connect employees with professional coaches for confidential conversations about whatever they're facing at work. Dr. Dash said "This, along with my Ombuds work, is a great use of my doctoral learning";
She is the president/owner of The Pace Institute, LLC. Through her company, she supports others in strengthening relationships and setting course in times of conflict, change and opportunity through professional development training, individual and team coaching, dispute resolution system design, and organizational ombuds services.
Jazmin Letamendi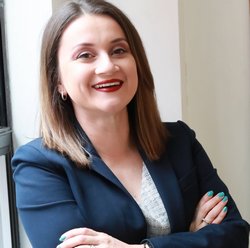 Ph.D. | Class of 2015
Jazmin Letamendi is a scholar/practitioner in the field of higher education and is a trained conflict resolution and assessment professional. Presently, she works at John Jay College of Criminal Justice as the Associate Director of Student Transition Programs. She has over a decade of experience working in student affairs across functional areas such as residential life and housing, student activities, Greek life, judicial affairs, assessment, new student orientation, commencement and parent programming. Born in Medellin, Colombia and raised in Florida, she prides herself on being a first generation college graduate and the only one in her family to earn a terminal degree.
Dr. Letamendi earned her Ph.D. in Conflict Analysis and Resolution with a research focus in college campus dynamics and index development to quantify student engagement. She also holds an M.S. in College Student Affairs and a B.A. in Anthropology. Fun fact: she is a foodie and is the co-founder of Ology Research Group and the ORGanon podcast.
Alicia Booker
Ph.D. | Current Student
Alicia Booker has been appointed as the Associate Ombudsperson for the public research university in Ohio. The Office of the University Ombuds provides services to UC's 55,0000 students, staff, and faculty.
Booker is completing her Ph.D. at Nova Southeastern University and her research focuses on the study of conflict analysis in corporate and academic settings. Booker has earned a qualitative research certificate from Nova Southeastern University and has served as a guest lecturer on the topic of Ombuds. Booker earned her bachelor of arts in journalism and master of arts in dispute resolution from Southern Methodist University (SMU). At SMU she also received graduate certificates in conflict coaching, executive coaching, and advanced training on workplace collaboration in conflict management. She is an active member of International Ombudsman Association and the American Bar Association.
Of her time at NSU, Booker reflected: "NSU has allowed me the opportunity to deeper explore my curiosity of how impactful the role of the ombudsman is to the experiences of visitors in higher education and corporate settings. Under faculty leadership, I was able to assist on the Administrative Conference of the United States (ACUS) federal ombudsman project which exposed me to leaders in my field. I am forever grateful for encouragement, guidance and support I have received from NSU faculty and staff. After six years of volunteering on various Ombuds committees and seeking out Ombuds opportunities, I am now living my dream as a university ombudsman."
Lisa McBride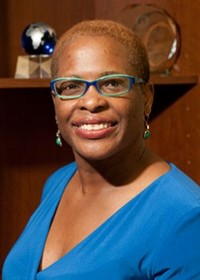 Ph.D. | Class of 2007
Dr. Lisa McBride was recently named to the editorial board of INSIGHT Into Diversity. INSIGHT Into Diversity connects potential employees with institutions and businesses seeking a workforce more reflective of the community. It is the oldest and largest diversity magazine and website in higher education today.
Dr. McBride was appointed the first Vice President for Diversity and Inclusion at Salem State University. She'll join Salem State from the Philadelphia College of Osteopathic Medicine (PCOM), where she served as the inaugural Chief Diversity Officer. There she implemented the President's Diversity Council, developed a Diversity Leadership Speaker Series, and created and developed the Cultural Competency Training/Curriculum. Prior to coming to PCOM, Dr. McBride was the Special Assistant to the President for Equity, Justice, and Diversity and University Ombudsperson at California University of Pennsylvania (Cal U). Before that she held several positions in the Florida State University system and had an extensive career in law enforcement. In addition to her doctoral degree, Dr. McBride holds an M.S. and B.S. in Criminology from Indiana State University.
Of her time at NSU, Lisa said: "I attribute my success to the education that I received in the Ph.D. program in Conflict Analysis & Resolution at Nova Southeastern University (NSU). The skills and techniques of practice I learned at NSU as it relates to policy and program development, and cultural analysis have been critical to my professional development as a Senior Administrator in higher education. I will be forever grateful to the NSU faculty most importantly for always emphasizing the importance of having the ideals and values of courage, truth, compassion, dignity, humility and service."
Gabrielle Grant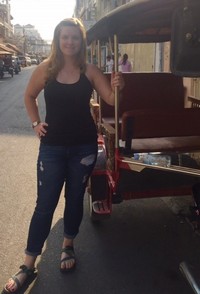 Ph.D. | Class of 2015
Gabrielle Grant is an alumni of the PhD program in Conflict Analysis and Resolution. Today she is quite busy, working in Cambodia on multiple projects utilizing her research skills, in particular qualitative research. She spent the first few months in the field working for Plan International evaluating a child rights program in rural Cambodian schools. Another project was evaluating the nutrition program in various orphanages in India. She is now working on a number of small projects for various international NGOs and Government Agencies.
Gabrielle says now is a good time to be in Cambodia as it speaks to her interest and experience. The government is in the process of decentralizing its social affairs and services in addition to creating a juvenile justice system. She is being flooded with opportunities in helping to build systems from the ground up. She finds her job quite rewarding.
Gabrielle went on to relate an opportunity wherein she stated, "Things recently really came full circle in regards to conflict resolution, as my boss and I have just finished a report on access to justice for indigenous women in Laos for UN Women. My supervisor has completed similar studies in Cambodia for UN Women. Access to justice for women within informal justice systems in Southeast Asia gets a great deal of attention from the UN Women offices in this area, so I feel like we will get to do similar studies all over the region."
All in all she feels quite blessed to have this opportunity she currently has and could not have wished for a more perfect job for herself.